This is the 9th post in a 31 Day series: Creative Inspiration. Check out all the posts here.
I know I promised a post on chocolate toppers for cupcakes that kids can make, but it didn't work out for today. I promise it will come sometime within the next 22 days.
Today I wanted to share a cute little photo set I put together of my 3 boys. Since we now have a teen and a pre-teen in our house, we have seen a marked increase in the eye rolling around here. We were talking about it over frozen yogurt the other day and it turned into a little silliness with everyone giving it a try for the camera. I don't mind eye rolling at all when this is the result! There's not enough silliness in the world.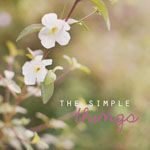 WHAT I WAS THINKING ABOUT WHEN I PUT TOGETHER THE PHOTO SET
These weren't necessarily the three best photos of the lot, but they were the best of all the photos that were the most alike.
To put together this set, I chose the three photos that were the most alike in 1) orientation (horiz vs vert) & 2) composition. Once my photos were selected, I edited the first photo in Lightroom to my liking, then I selected the other two photos and synchronized the settings. This guarantees the set has a consistent feel and look so it looks as if it goes together.
[To SYNCHRONIZE your photo settings in Lightroom, select PHOTO from the menu bar, DEVELOP SETTINGS from the drop down menu, then SYNC SETTINGS.]
NEW NAME & UPDATED BLOG BANNER
If you are regular reader of my blog, you may have noticed that I changed the name of my blog a couple of days ago. When I first started this Typepad blog almost two years ago I never planned to remain for long, so I never really gave the name any thought. Then when I was making my blog banner several months ago now, I came up with a name in a pinch so I could get the blog banner done and see how it looked, again not giving much thought to the name. Anyway, I hated that name! I never liked it and I especially hated it when people would refer to my blog using that awful name (My Creative Days in Beijing - BORING & AWKWARD). Anyway, I finally decided it was time for a change, so I came up with Nihao, Beijing!
I love making cupcakes and one of my favorite idea books is called Hello, Cupcake! Nihao means "hello" in Mandarin, and I thought it sounded cute together, so that became my new name! I hope it isn't too limiting since cupcakes are only some of what I share on this blog. 'Cupcake' is also a term of endearment so I hope that helps it seem general enough. Not to mention, cupcakes are trendy right now and it gives my blog a cheerful feel, I hope.
You may also have noticed that I changed the color scheme. It is a simple change, but I like the feel of the blog much better now. I may continue to tweak things here and there, so don't be surprised if things look different from time to time. It's still me!
A NOTE ABOUT my 31 DAYS SERIES
Ok, I'm starting to think my 31 Days series should have been 31 Days of Photo Inspiration since I keep coming back to photography. It is just what I do all the time and in a pinch, it is easy for me to put another photography centered post together. I really want to get back to creating things outside of my camera. This 31 Day Series was meant to be a catalyst to that, but instead that extra time is spent on the posts rather than creating. I'm not giving up, however, non-photography posts coming soon! Unfortunately, not tomorrow!
Tomorrow is all about TRAVEL PHOTOGRAPHY. I'll share some fun things I did on my trip to India this past June. You won't want to miss it!
Day 1: Design Your Own Cupcake
Day 2: Storytelling Sunday
Day 3: Scrapbooking (Week in the Life Album)
Day 4: Everyday Photojournalism (Project 365/Project Life)
Day 5: Family Photo Fun - FAMILY x 12 BLOG HOP
Day 6: Links to Creatively Inspiring People (all writing a 31 Day series)
Day 7: Healthier (But Still Delicious) Cottage Pie
Day 8: Photo Walk
Day 9: Fun Photo Story
Other topics in the works for my 31 Days of Creative Inspiration Series: 
Photography - I answer the question, 'How do I know if I should buy a DSLR camera?', Family Photo Fun ideas from around the web.
Recipes - my husband's delicious salsa, HealthIER (Yet Still Delicious) Recipes
Scrapbooking - My favorite mini album, 30 minute scrapbook challenge
more Cupcake Ideas, craft ideas...
AND LOTS, LOTS MORE (I'm posting for 31 Days straight, remember?!)
And to find more than 700 other blogs participating in the 31 Days series, go here. There is a huge variety of topics to choose from.