The muffled sounds of off-key singing and the unsure melody of a recorder came from behind their bedroom door. I had to go investigate. They were standing in the middle of the room, my ten-year-old occasionally instructing his little brother what to do. His little brother trying his best to sing in time with big brother's rendition of Hot Cross Buns on his new recorder. Part of the upper elementary music curriculum at his new school is learning to play.
Sometime in the past couple of days, right under my nose, my ten-year-old must have taught my youngest the words to the song and they had planned this practice.

These moments are the treasures of motherhood for me. I love when kids plan things 100% by themselves and do things together like this. I think they are also the treasures of childhood for kids as well.
What creative things do your kids come up with completely on their own?
I'm linking this photo up at Rebecca's blog for The Simple Things challenge.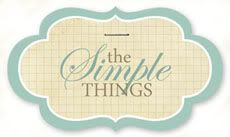 These creative moments remind me of things I did as a child like plan restaurants with complete menus, linen cloaked table in the livingroom and full wait service by me.
A more similar memory is when my brother and I (audio NOT video) taped the Brady Bunch episode when the Bunch entered a singing contest. On a rainy summer day on holiday in Durango, Colorado while Dad napped in the van, my brother and I wrote down all the words to the songs and memorized them. I still remember 75% of those words to this day.
Do you remember this song?
The Brady Bunch was by far my favorite TV show as a child, even though I watched it as reruns. And Cindy, the youngest girl, was my very favorite character.
Do you have a favorite childhood television show? What is it? And who was your favorite character?